gettyimages- Casper Sitar/EyeEM
Does your dog run and hide under the bed as soon as they hear thunder rumbling in the distance? If so, read on.
When you notice the sky darken and the air become heavy and humid, it's a sure sign that there's a thunderstorm brewing. However, your dog is likely to already be on the alert.
As soon as the rain arrives, your dog is probably already pacing up and down and whining to get your attention. Being a considerate dog owner you will want to help calm his nerves and make him (or her) feel less anxious. This can be achieved without the aid of medication.
During a thunderstorm and when there is heavy rain, dogs often seek the lowest place in the house so you may find your dog hiding under your bed, your sofa or even in your wardrobe (if the door has been left ajar).
gettyimages  aerotoons
The reason for this is likely to be due to the noise of the thunderstorm. Some dogs are known to have a phobia of noise and you may have already noticed this when your dog has reacted on hearing fireworks or a noisy car back firing in the past. Although as an owner you know that this fear is irrational, your canine companion, however, will be worried about what is happening around him in the immediate area. Your dog may feel threatened and this may trigger the fight or flight response within him to ensure his survival.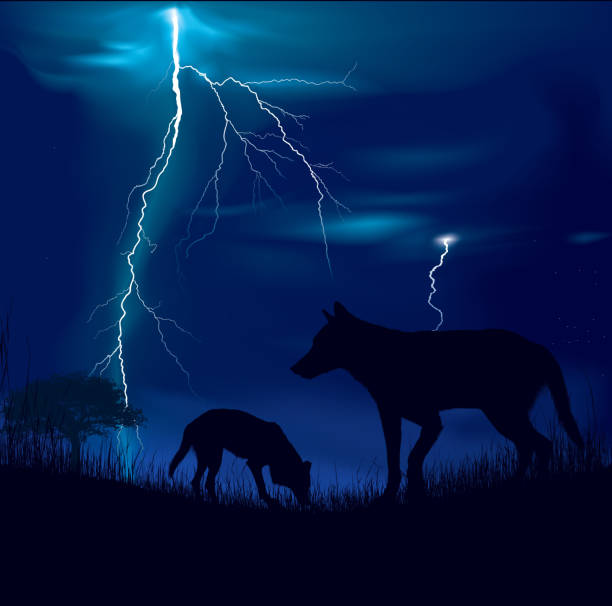 gettyimages- vectorig
There are other external factors which may affect your dog when there is a thunderstorm and these may include:
Other options available are body compression 'shirts'. Made from durable and washable fabric that compresses much like Spandex does for humans, and it seems to provide comfort to some dogs.
Also don't forget to close all windows, blind s and curtains to minimise any light flashes. You may also want to consider anti-anxiety medication as a last resort on advice of your Vet.
Remember that thunderstorms do not make sense to your dog and you just need to understand his fear.
gettyimages- louis Amore
Static electricity which builds up in the clouds eventually bursting into lightning. Your dog is likely to be able to sense this "static" even when indoors. Specialists understand that static electricity is felt by dogs through their fur, generating an unpleasant tingling sensation.
Change in barometric pressure means that dogs with phobias of thunderstorms are able to sense a drop in air pressure which often accompanies the storm.

Change in ions occurs in the atmosphere during a thunderstorm. Dogs may become more aware of changes occurring within their own nervous system as external sounds and noises become more apparent i.e.; rain and lightning and your dog looks for somewhere low to hide himself.

Change in human behaviour means that your dog is likely to be sensitive to your reaction to a change in the weather. If you become anxious or agitated when a storm is brewing and become nervous about losing electrical power in the house, then your dog is likely to be aware that something is wrong and will be on the alert.

Genetics affects dogs as much as humans and any noise sensitivities can be passed onto your dog through his genetics. Dogs can have hereditary reactions to certain frequencies, intensities or types of sound, associated with strong feelings of dislike, fear or even aggression. Additionally, different dog breeds can also have different levels of anxiety during storms.
Easing your dog's anxieties during a thunderstorm
One place your dog may make a dash for is the bathroom as it is thought that the porcelain of the bath may help to block out static electricity.
Be careful not to be too 'comforting' towards your dog as he may think that his actions are something you would like him to do again.
Your dog may prefer to be somewhere dark and quiet during a thunderstorm and if you have a box big enough, he might be persuaded to sleep in there.