How old must your Puppy be?
ebay.co.uk
Puppies can get dirty at any age. But advice is to bathe puppies when they are at least 12 weeks old . With younger puppies it is best to use a sponge with warm water, using a mild shampoo as puppies skin and fur are generally quite sensitive. Quickly drying your puppy with a soft towel will do the trick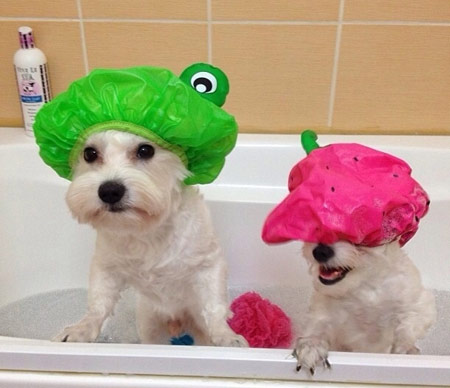 dfordog.co.uk
.How Best To Bathe Your Puppy
For puppies older than 12 weeks, , generally you can use a dog bath easily purchased you can also give your puppy a bath in a sink, a good size container or even the family bath. Depending on the size of your puppy. Generally the more room you have for your puppy to move around, the easier it is for you and puppy feels safer.
IT is important to brush your puppy well before you start, this will remove any excess dirt and lose hair. It will also help to untangle any knots. As it is generally more difficult with wet hair.
m.youtube.com
Get your bath ready with warm water. The old elbow test method is still the best. This should be comfortable for you and puppy. Too cold or too hot will a bad experience for your puppy and make it more difficult the next time you bathe him or her. It is generally a good idea to use a non slip mat in the bath to prevent puppy slipping and panicking, this will help puppy to grip and feel safer and prevent possible injuries.
What shampoo next?
alamy.com
Selecting the correct shampoo, that is puppy shampoo is very important. Only use puppy, theses shampoos with conditioner are designed for puppies. Ordinary human shampoo or soap with or without conditioner are too strong for puppy's delicate skin.
When applying shampoo and lathering take great care to avoid getting shampoo in their mouth, eyes or ears. A gentle body massage or rubbing will be a delight for your puppy and will love the next bath.
• Only use warm water to rinse off your puppy.
Using a hand spray, bottle spray or jug will make the process easier, ensuring a gentle flow of warn clear water will be gentle and not too quick for the little fellow. A gentle spay or mist will be readily accepted, ensuring that all traces of soap or shampoo are removed.
• After your puppy is rinsed clean, take them out of the bath.
• Use a soft towel to dry your pup off Keeping puppy in a warm room until they are totally dry, avoiding letting them outside until totally dry, specially in cold weather.
Remember dogs like humans can catch cold or get a fever.
•
buzzshare.com